Compressed Air Dryers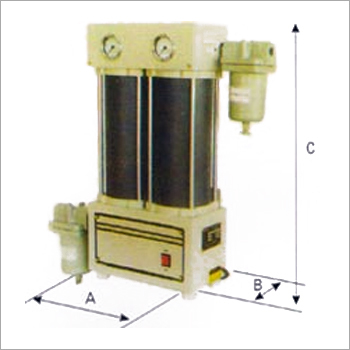 Compressed Air Dryers
Product Description
Since our establishment in the industry, we are engaged in supplying the Compressed Air Dryers. All these dryers are widely used for providing uncontaminated air by removing solid, vapor and liquid dust particles. Our dryers are perfectly synchronized with quality certified components that make these more reliable and function efficient. Further, we make available the Compressed Air Dryers after conducting quality testing approaches.
Features:
Operates on low dew point
Instant dry air availability
Convenient to install and operate
Tower
Non-corrosive Aluminium body.
Amply sized to save heat adsorption.
Stai niess-steel support screens and ai r diffusers.
Large desiccant bed ensures sufficient contact time to produce -40C dew point (_60C with Molecular sieves).
Each tower is provided with pressure gauge.
Filter
Each dryer is equipped with a Pre-filter to protect desiccant from free water contamination, dust, scales, etc., and an after-filter to avoid desiccant dust carryover.
Pressure Gauge
Pressure gauges on each tower for easier illustration of working of dryer. Highly reliable solenoid valves, to international standard, which acts as main flow and exhaust valves
Valves
Check valves with well designed orifice For highly accurate purge flow